Formula E: Racing Into the Future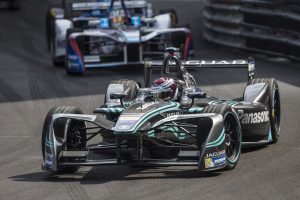 Winding through closed-off city streets, these wide-bodied, low-clearance racers scream across turns and straightaways before rapturous crowds. Excitement is the only thing in the air—thanks to a complete lack of exhaust from these blistering-fast machines. As more and more everyday drivers turn to hybrids and fully electric cars for transportation, the high-speed counterparts in Formula E Racing are speeding to the trophy stand fueled by that same cutting-edge combination of tech and engineering, only with considerably more horsepower.
Formula E is the foremost electric racing organization in the world, having grown into an international circuit of over a dozen races since it launched in 2014. The cars compete on closed street courses comprised of winding roads—rather than stock car racing's static ovals—and their global popularity is gaining fast. 2016's champion, the Brazilian Lucas di Grassi, works in anything but obscurity, and was named Driver of the Year by his country's popular racing magazine Grande Premio. Lucas and his fellow competitors have already kicked off the 2017-18 season in Hong Kong, and will continue on to Marrakesh, Mexico City, and 8 other international hotspots in their quest for this year's crown.
But open-wheel racers aren't the only form of battery powered competitors grabbing attention in the racing world. The National Electric Drag Racing Association organizes a busy calendar of events featuring electric cars and motorcycles on old-fashioned drag strips, where speeds can reach up to 200 miles per hour. The gearheads of old, it seems, have paved a way for a new breed of tinkerers and hobbyists to race their creations, the only difference being that these hobbyists' toolboxes draw a little more inspiration from Silicon Valley than the ones in your average garage. Computers and electronic components replace gear wrenches and oil-stained steel as the vital components that keep these machines roaring.
That's not to say this new movement is entirely disconnected from racing's storied past. To students of automobile history, this trend may appear to be more of a return to form than a new way of racing. In the early days of racing, electric motors were outpacing gas-powered ones, and an 1899 electric car, the Belgian La Jamais Contente, was the first to break the 100 kilometer per hour speed mark (60 mph). As of 1900, 38% of cars produced in the United States ran on electricity. However, their short range and prohibitive cost paved the way for gas combustion engines' dominance in both the racing and consumer markets.
The growing popularity of Formula E parallels the recent growth in consumer electric cars, and the path laid by Tesla motors is quickly being followed by major car manufacturers like Volkswagen, Ford, BMW, and many others. All of them look to deliver on highly-touted plans to have competitively-priced fully electric cars in the market within the next decade.
With the popularity of electric cars growing in high-speed entertainment and everyday travel, we can already see a cleaner future coming into focus for the world's cities and race tracks alike. Considering the promise this technology has shown since the beginning, it seems the finest hour of the electric car is still yet to come. The flicker of innovation for the next generation of racers is already out there…but it's not coming from a spark plug.